Social Event (Tuesday 22 October)
Canal Boat Tour
No visit to Amsterdam is complete without a tour of the famous UNESCO World Heritage canals! Therefore, we have arranged a canal boat tour for all IMC participants that will attend the dinner banquet (including your plus one if you booked an extra ticket). The tour will take between 75 and 90 minutes, and we will be picked up and dropped off within 2 minutes walking of the venue. Please read the information below carefully, our tour will use historic boats with a strictly regulated capacity and our volunteers will guide you in groups to the boats as they arrive at the dock.
All boats will have a tour guide on board to tell you about Amsterdam's rich history.
Note: the boats mostly have standing place, a limited number of seats will be available for attendees that cannot stand for long periods of time, please keep the seats free for these attendees.
Logistics
We will depart in groups from the Marble Hall from 17:15h, after the last session ends, the last group is expected to depart from the venue at 17:30h.
Our volunteers will guide you in groups of appropriate size to the boats as they arrive at the dock. Please follow the instructions of our volunteers carefully, and do not walk to the boats on your own, we will be boarding the boats at a busy time in Amsterdam's city traffic and need to carefully regulate the number of attendees per boat. We will depart in groups from the Marble Hall.
Those of you bringing a plus one, please make sure your companion is at the venue no later than 17:10h.
We will be back at the pick up point latest by 19:00h, the dinner location will be open from 19:00h, and food service is expected to start from 19:30h. For those with a hotel near the venue, there is very limited time to drop off bags. Note, though, that a guarded cloak room will be provided at the dinner location where you can also leave your bags. The cloak room will close around 23:30h after dinner ends.
For your information, the table below lists the boats, the order in which they will sail and their maximum capacities:
| | | | | |
| --- | --- | --- | --- | --- |
| Time | Volunteer | Boat | Max. capacity | Description |
| 17:15h | Wouter | Bota Fogo | 90 people | Classic "Tjalk" built in 1890 with a salon made out of Iroko hardwood |
| 17:25h | Raffaele | Ondine | 30 people | Luxury salon boat with teak decking, built in 1909 |
| 17:35h | Moritz | Hoop op Behoud | 60 people | South Holland Pavillion "Tjalk" built in 1897 |
| 17:45h | Olivier | Anna Maria | 60 people | Frisian "Tjalk" built in 1910 |
| 17:50h | Abhishta | "HRH" | 36 people | Luxury canal yacht, originally built for HRH Prince Hendrik in 1913 |
Skipping the Tour
In case you do not wish to participate in the tour, please let the chairs know (by talking to us or by e-mail) so we can take this into account when sending groups to the boats.
Note: in case you are hesitant because of sea sickness, unless there is very stormy weather (which is not foreseen at the moment), the water in Amsterdam's historic canals is very calm and unlikely to lead to sea sickness, unless you suffer from very severe motion sickness.
Tour company
The tour company is Amsterdam Boats (site in Dutch only), one of the boats we will sail on is shown below: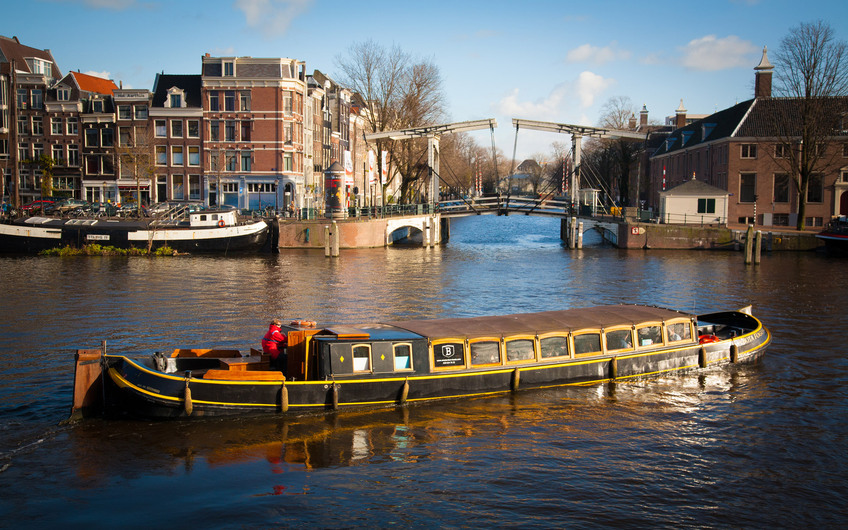 Bota Fogo, Amsterdam Boats